"Slumber Party Massacre Collection" Arriving on DVD in October
Author
Date
08-31-2010
Comments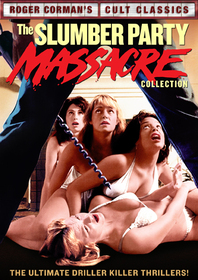 I wouldn't usually post about another series of low-budget 80s slasher movies arriving on DVD, but the Slumber Party Massacre series (1982-1990) has always piqued my interest. The slasher movie has long been derided as chauvinist at best, misogynistic at worst, so a trilogy of such films written and directed by women bears closer scrutiny, especially when one of the women involved is noted feminist Rita Mae Brown (she wrote the screenplay for the first Slumber Party Massacre film).
Shout! Factory will be putting out the "Slumber Party Massacre Collection" on October 5th, 2010, under their "Roger Corman's Cult Classics" banner. The two-disc set will feature all three films in the series, as well as an "in-depth" documentary, a photo still and poster gallery, trailers, and a collectible booklet. Slumber Party Massacre and Slumber Party Massacre II will have new, anamorphic widescreen transfers.
The Collection, which has a suggested retail price of $24.97, is available for pre-order on Amazon.com
and ShoutFactory.com. Shout! Factory is adding a gift to pre-orders that come through their website: a limited edition, queen-size Slumber Party Massacre pillowcase: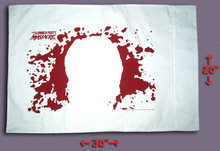 Anyway, I'm looking forward to delving into this set when it comes out. How about you?