Spotlight on George Romero at SDCC 2007
Author
Date
07-26-2007
Comments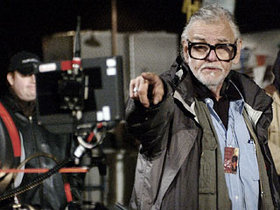 The horror highlight of San Diego Comic-Con's opening day of panels was Spotlight on George A. Romero. Hosted by Max Brooks, author of bestselling novel World War Z, George Romero discussed everything from why he makes zombie movies to the loss of the Night of the Living Dead copyright to his upcoming production, Diary of the Dead. The event even included a surprise visit by writer and producer J. Michael Straczynski (Babylon 5).
Of particular note was Romero's comments regarding Diary of the Dead, the latest in the Living Dead series. This new, independent film, which does not yet have a distributor in the United States, is schedule to premier at the Toronto Canadian Film Festival in early September, followed by a European theatrical release. Unlike the other Dead movies, which occurred in chronological order, Diary of the Dead is not a sequel; instead, it takes place during the same time frame of Night of the Living Dead. Filmed mostly in first person, subjective shots, Romero hopes to offer a more personal view of the zombie experience, describing it as a "whole new beginning" for the Dead Series.
Other important announcements included confirmation of a tentative Living Dead television project between J. Michael Strazynski and George A. Romero and a feature production of World War Z, co-written by J. Michael Strazynski and Max Brooks.