The Haunted Mansion: Keeping the Faith
Author
Date
02-23-2011
Comments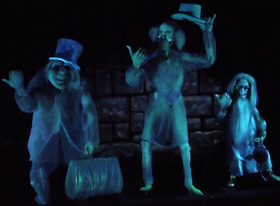 The following is for the League of Tana Tea Drinkers' roundtable discussion of "What Do Cute Versions of Monsters Tell Us About Horror?" I realize that I didn't address the question directly, but I think my piece fits into the larger discussion.

I've never been a spiritual person. The most pressing conflict of faith I had growing up was whether I would become an agnostic like my father or an atheist like my mother (I still bounce back and forth to this day). I suppose we all need something to believe in, however, especially as children. I believed in horror. It was, in many ways, my faith - adored without question, every movie I could get my hands on committed to memory and recited ad nauseam. Frankenstein, Dracula, the Wolf Man, and an exquisitely tortured Vincent Price were all major deities. It was a simple pleasure in a complex time - my parents were getting divorced and I was being moved (as opposed to moving, which suggests I had some choice in the matter) to another state. In hindsight, horror was something I very much needed to survive - the heightened acting, the fantastic settings both foreboding and unreal, the monsters who brought thrills and chills to supplant the uncertainty that was actually much, much scarier.
However, I have an obsessive personality and a driving need to understand what I love. Slowly, I began to analyze horror, try to understand it. This quest lead me to watch more modern horror and to also try to "get under the skin" of my original loves, finding the psychological hooks and societal forces that made them so effective. I put a lot of pressure on myself to dig deeper and deeper. In many ways, this has increased my appreciation of the genre, but it has also smothered much of my love for it. I find it nearly impossible to go back to that simplicity that drew me originally, the escapist joys of a 75-90 minute excursion into the black-and-white or garish Technicolor world of the macabre.
Then came The Haunted Mansion. Just one ride on a Doom Buggy reminds me exactly what drew me to horror all of those years ago. It's like a church in the netherworld and it's beautiful.
Let me back up a bit. I never got to go to Disneyland as a kid. I lived in the Midwest and it was just never in the cards. There was Adventureland in Altoona, Iowa, but that's hardly the same thing. Fast-forward to me as an adult. I'd started regularly visiting a couple of friends in Los Angeles about twice a year. When they discovered this massive gap in my childhood experiences, they declared that it would not stand. So it was that at age 25, I went to Disneyland for the very first time. And the second attraction we hit (after Pirates of the Caribbean) was The Haunted Mansion.
I ended up riding it twice that day.
Here's the thing about The Haunted Mansion: it has no problem with being both spooky and goofy. It pulls from all sorts of horror disciplines - ghost stories, of course, but also Edgar Allan Poe (the man begging to be let out of his coffin), serial killers (the whole section on the black widow bride), and monsters (there's a mummy in the graveyard) - and finds ways to make them both merry and scary. The ride starts out with a bit of fun - four innocent-looking portraits in the room you wait in stretch to reveal a humorously sinister side - but then goes for a great scream (the room goes pitch black for a second before a flash of lightning reveals a hanging body above). It may seem like a shame that the ride has only one more really strong scare in it (involving a clock and a shadow), but that's beside the point. The Haunted Mansion takes joy in the ghoulish, a reminder that I need to do the same.1
Something else that The Haunted Mansion serves to remind me is that there can be moments of bizarre beauty in horror. The view into the dining hall with the disappearing and reappearing ghosts may feature a lot of gags, but the transparent dancers whirling about in perfect synchronicity is both mesmerizing and a little disquieting. In short, it's sublime.
However, the chief value of The Haunted Mansion is fun. By the time my Doom Buggy hits the cemetery, with the song "Grim Grinning Ghosts", I myself am grinning but hardly grim. The whole experience becomes this giant flash of joy that I'd be hard-pressed to describe in any real detail. It's a moment of pure love, a calling back to the time when these things were simpler and when horror was a place of comfort and not consternation. As the Doom Buggy ascends toward the exit, a woman in flowing robes requests guests to "Hurry back... hurry baaaaack." And I do.
Now that I actually live in Los Angeles (and have purchased my annual pass), I have every intention of visiting The Haunted Mansion four or five times a year, if not more. It is, in many ways, something I need in another period of uncertainty in my life — adulthood.
1
I cannot and will not abide by the garish spectacle that runs from October to December when
The Nightmare Before Christma
s gets its grubby day-glo claws into The Haunted Mansion. You might think that I'd appreciate it for the same reasons I appreciate the original flavor Haunted Mansion, but you'd be wrong. Having recognizable characters removes a lot of the wonder and the Christmas angle (however morbid it's made) jars badly with the whole spirit of the experience. It's a ridiculous makeover that supplants a perfect ride right around the time of year it would be best appreciated - Halloween. I will speak no more of this abomination.
Incidentally, if you want to know more about The Haunted Mansion, I cannot recommend DoomBuggies.com more highly. It's a one-stop resource for all things grim, grinning, and ghostly at the various Disney parks.