The Terrorphile: Sometimes We Come Back
Author
Date
04-30-2010
Comments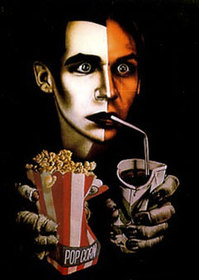 Did you miss us? It's been six long months but Classic-Horror.com is back from hiatus. In that time, I got married, was promoted at my "real job," started writing a book, stopped writing a book (note that I didn't say "finished"), and spent more time than is reasonable fiddling around in Final Cut Express.
I'm happy to say that the primary goal of the hiatus was definitely met: I was able to take some time to consider the whys and wherefores of the site and what makes it work. In the future, we'll be more focused on the history of horror (as our banner promises). This includes three new regular columns:
Cold Reads, a weekly study of horror in literature by Jose Cruz
The Fruit Cellar, Missy Yearian's monthly look at gender in horror
The Terrorphile, my own monthly oddball take on horror (sometimes with video)
We'll also be running our reviews on a weekly basis, usually on Mondays. Our slate for May includes Rowland V. Lee's Tower of London, David Lynch's Eraserhead, and Martin Scorcese's Cape Fear remake, amongst others.
In short, we're back, folks, and we're sticking around.