Theaters and Stills for Dario Argento's "Mother of Tears"
Author
Date
05-15-2008
Comments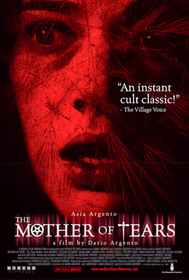 Myriad Pictures has sent along the list of theaters where Dario Argento's long-awaited third section of his Three Mothers trilogy, The Mother of Tears, will play during its limited U.S. release. They also generously provided dozens of production stills, which you can find at the bottom of this post. In The Mother of Tears, Mater Lacrimarum (the Mother of Tears) has been hiding in Rome for centuries and her awakening triggers a chain of mysterious and terrible events: the Evil is back to cast its dark shadow over the city.
June 6th, 2008
New York - Sunshine Cinema
Los Angeles - Nuart Theatre
Irvine - University Town Center 6
Philadelphia - Ritz Bourse
Cambridge, MA – Kendall Square 9 Cinema
Washington, DC - E Street Cinema
June 20th, 2008
San Francisco - Lumiere 3 Theatre
Berkeley - Shattuck 10 Cinema
San Jose - Camera
Minneapolis - Lagoon 5 Cinema
June 27th, 2008
Denver - Starz Film Center
San Diego - Ken Cinema
Austin - Dobie 4 Theatre
Dallas – Magnolia Theatre
July 4th, 2008
Seattle - Varsity 3 Theatre
Chicago - Music Box Theatre
July 11th, 2008
St. Louis - Tivoli 3 Theatre
Atlanta - Midtown Art Cinema
If you need further enticement, check out our gallery of Mother of Tears production stills.