Tim Lucas Interview
Author
Date
10-30-2007
Comments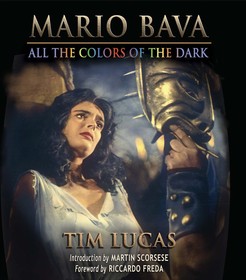 Scan through the reviews in Classic-Horror's Mario Bava Week and you'll see a certain name pop up over and over again: Tim Lucas, editor of Video Watchdog magazine. You'll also see plenty of references to "Mario Bava: All the Colors of the Dark", Lucas's self-published biography of the director, which came out in September. The reason for all the mentions is simple: there isn't anyone on Earth who knows more about Mario Bava than Tim Lucas (excepting, perhaps, Mario's son Lamberto), and he's poured that knowledge into "All the Colors of the Dark". That's 12 lbs worth of knowledge, by the way. It's an awe-inspiring work (as you'll see from the specs I relate in the body of the interview) that I still haven't finished reading. It's not an inexpensive tome at $250 plus shipping, but as the saying goes, it's cheap at any price (so go order one).
Somewhere in his busy schedule of editing and self-distributing each issue of Video Watchdog, posting to his blog, posting to his other blog, and spreading the word on the Bava book and his three commentary tracks for Anchor Bay's Mario Bava Collection Volume 2, Tim found the time to sit down and chat with us about the book, Bava, and cool horror films.
Classic-Horror: "Mario Bava: All the Colors of the Dark" is no small feat at over 1100 glossy pages filled to the brim with full-color photographs and enough text for ten novels. You and your wife Donna devoted a significant portion of the last thirty-two years researching it, writing it, and putting it in its final form. What's your feeling now that the product of all that hard work is out there and receiving the accolades it so richly deserves?

Tim Lucas: That's a hard question because I don't want to give people the wrong impression. Primarily, both Donna and I feel grateful for having been able to produce it. People say "you must be proud," but what we really feel is humble... and relieved. I'm also sad that some close friends who looked forward to seeing the book realized didn't live to see it. Having lived with it so long, I don't pick up the finished book very often, but I do love it -- mostly for how much of my wife is in it.

C-H: Could you elaborate on the role your wife played in the creation of the book?

Lucas: Simply put, I wrote the book and Donna created the book. I provided the photographic materials and offered suggestions about image placement, but she organized the book, gave it shape, created the layout, proofread it, standardized spellings in English and Italian, supervised and did much of the digital restoration of over 1000 images (she was assisted in this by three other talented people: Charlie Largent, Simonida Perica-Uth and Matthew Bradshaw), and also spent six months creating the book's index. She also auditioned printers, handled all of the business with the Hong Kong printer we finally chose, and made the decisions about how the book should be bound, packaged, shipped. Donna isn't that familiar with Bava's work, or especially interested, so you see my sensibilities in the layout, but I was only an occasional backseat driver in the process of the book's design. It's her Sistine Chapel ceiling.

C-H: What makes Bava so appealing to you as a book subject, rather than strictly as a director and cinematographer?

Lucas: I think he represents what a filmmaker should be: creative, capable, self-reliant, able to produce expensive-looking shots cheaply, through know-how. That's now a rare, if not extinct, species. I also find him personally appealing: genial, in love with literature, committed to his wife and family.

C-H: With the sheer volume of research that went into making the book, including interviewing subjects and searching for references in periodicals and books (including a few, I imagine, in languages in which you are not fluent), how did you stay organized and sane during the long journey to publication?

Lucas: I don't claim to have stayed organized and sane. I actually dread filing away my notes on the book (which I still haven't done) for fear of finding some important interview or bit of information I failed to incorporate. I'm one of the least organized people I know, but I'm disciplined in other areas.

C-H: That's just begging for a "Such as?" So -- such as?

Lucas: I write every day. I answer my e-mail promptly, at least the letters that warrant an answer. I make a point of supplementing my usual workload with at least three new blog postings per week. I'm very good with deadlines -- if it's 2:00am and I have a deadline to review a film by the following day that I've been procrastinating about, I will find a film, watch it and review it before going to bed, even if it's a Sunday night. So, in terms of my craft, I'm very disciplined. I find it much harder to clear my desk, clean house, exercise, do my laundry, play with our cats, make grocery lists, and so on. Simple tasks that could be accomplished in a matter of 5-10 minutes I will put off till far beyond the time it becomes an inconvenience not to do them. That's my nature.

C-H: You're a fan of 5 Dolls for an August Moon, as am I, but otherwise, it's the most critically lambasted of Bava's thrillers. What do you think Bava fans might be missing by skipping this fascinating entry in his oeuvre?

Lucas: 5 Dolls is important as an illustration of what Bava could do with sub-par material with next to no preparation. You can see his anger with the material and circumstances at times, but his inspiration and sense of irony are even more apparent. It also has what might be the most wonderful score he ever worked with, a blessing that somehow befell this abrupt project from Piero Umiliani.

C-H: You said in your Video Watchblog that you would have preferred to do a commentary on 5 Dolls for an August Moon [for the Anchor Bay's second Mario Bava Collection] if there had been time. Would your approach to that track differ from your other commentaries, given that 5 Dolls is very different from the rest of the titles in Bava's filmography?

Lucas: I think I would have approached it in a similar way to the others, but it would have been one of my more casual commentaries, like the one I did for Bay of Blood.

C-H: Excluding Bava, what recently released horror DVD has been your favorite?

Lucas: Fox has been the label to beat this year, above all with their long-awaited restoration of Witchfinder General, aka The Conqueror Worm. I'm also very glad about their John Brahm set (it's called "Fox Horror Classics" or something equally non-descript), the one that includes The Lodger, Hangover Square and The Undying Monster; it's about time they were released. And finally, I'm happy that two of Don Sharp's best have come out, albeit in different sets: Curse of the Fly (in Fox's Fly box set) and Witchcraft (in Fox's Midnite Movies double feature with Devils of Darkness). Sorry, but I couldn't limit it to one.

C-H: If you could program a triple-feature of horror to be screened in 35mm at a repertory cinema, what would you include?

Lucas: Mario Bava's Blood and Black Lace, a restored IB Technicolor print (I once saw a French Technicolor trailer for this movie in 35mm and it was like being touched by the hand of God); Dario Argento's Suspiria with original multi-track surround mix (the best-sounding horror film I've seen in a theater); and Roger Vadim/Louis Malle/Federico Fellini's Spirits of the Dead with its English soundtrack restored.
I'd pay hard money to see that line-up, wouldn't you? A big thank you to Tim Lucas for his time, his book, and his continued efforts to promote the works of directors like Bava and Jess Franco who often don't receive the critical consideration they deserve. You can purchase "Mario Bava: All the Colors of the Dark" at http://bavabook.com/. I can't recommend it highly enough.
This feature is presented as part of Mario Bava Week, the last of four celebrations of master horror directors done for our Shocktober 2007 event.