Tribute Video: A Nightmare on Elm Street series - Legends Never Die
Author
Date
07-21-2010
Comments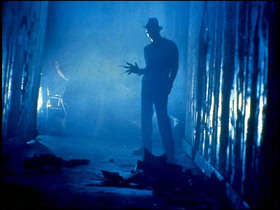 Horror may be my primary obsession, but it is by no means my only one. I've also taken to creating fanvids, which you can sort of think of as visual remixes of movies or television set to popular music (examples of my work can be found here, here, and here). Generally speaking, the friends I've made in the vidding community are separate from the ones I've made in the horror community, but sometimes there's a crossover which gives me great joy. The fanvid I'm presenting now involves one such crossover.
Eunice is a friend whose interests tend to run fairly parallel to my own, even though she's a much more talented vidder than I am. In her latest creation, set to the Plasmatics' "Legends Never Die," she explores the mythos of Freddy Krueger, from the Nightmare on Elm Street series. Of particular note is the way that she firmly reasserts Freddy as the spectral force of evil that he stopped being around the third or fourth film. You can see the vid after the jump.
Eunice's comments on her work can be found at her personal journal. You can leave her a comment here or there (either way, she'll get it).