Tribute Video: Boris Karloff in Columbia's Mad Science Films
Author
Date
11-28-2009
Comments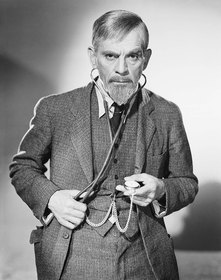 The following is our contribution to Frankensteinia's Boris Karloff Blogathon.
Starting with The Man They Could Not Hang, Columbia released four mad scientist films starring Boris Karloff in an eighteen-month period between 1939 and 1941. The other films in the series were The Man with Nine Lives, Before I Hang, and The Devil Commands. As a tribute, I created a short video to illustrate the general shared tone of the films and their similarities in structure, casting, theme, and direction.
The music is The Avalanches' Frontier Psychiatrist, a song constructed from clips and samples from previously recorded materials. I picked this song in particular because it calls attention to the fact that the Columbia Mad Scientist series was itself constructed from "used" parts, taking elements from Karloff's past successes in films like The Man Who Changed His Mind, The Invisible Ray, and even The Walking Dead.