Universal is Remake-Happy: "Bride of Frankenstein" Up Next
Author
Date
06-17-2009
Comments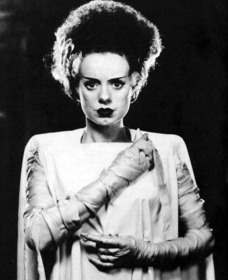 The Hollywood Reporter's Risky Business blog broke the inevitable news that Universal is developing a remake of James Whales's Bride of Frankenstein. In fact, it turns out that Universal's been kicking around the idea for at least five years, although never with any success. The new Bride would be co-produced with Imagine Entertainment. Neil Burger (The Illusionist, The Lucky Ones) is in talks to write and direct; he would likely partner with Dirk Wittenborn on the screenplay.
Personally, I'm ambivalent. While I don't want to fall into the trap of dismissing an entire studio for decisions made by different executives for different reasons, but let's look at the facts here. The last two pieces of horror news to come out of Universal were "Hey, we're remaking Videodrome as an action-thriller," and "Oh, by the way, we're doing a contemporary update of Dr. Jekyll and Mr. Hyde with Keanu Reeves." The news about Bride is only slightly more hopeful, because there's no casting attached and the rather questionable concept that the Risky Business blog does mention -- a modernization set in New York City -- is actually one of the discarded ideas from five years. Whatever the new take on Bride of Frankenstein is, it could be very good indeed.
But I'm not putting any money on that horse.