Universal Terror I: "Dracula"
Author
Date
03-01-2001
Comments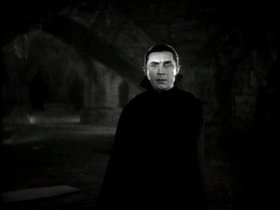 A grade schooler would have a hard time identifying a picture of Humphrey Bogart from The African Queen. A pre-schooler would be equally baffled by a photograph of Vivian Leigh from Gone With the Wind.
Small children are not that learned in classic cinema, but there are some exceptions. If any child is shown a picture of Bela Lugosi from Dracula, or Boris Karloff from Frankenstein, recognition will be immediate. The image of the man in the black cape and the slicked back hair is instantly recognizable as Transylvania's most famous citizen. The giant with bolts in his neck and the square head is mistakenly called by his creator's name, but he is still recognized. Count Dracula, the Frankenstein monster, the Mummy, and the Invisible Man are all legends. They have left the realm of mere fictional characters and joined the realm of mythology. Every October we see those classic ghouls as decorations everywhere. Dracula and the Frankenstein monster have become autumn versions of Father Christmas and Santa Claus. No other character from a motion picture has reached that level of cultural awareness.
Dracula first existed as a novel by Bram Stoker published in 1897. Frankenstein was written in 1818 by Mary Shelley. Those books are classics in their own right, but the versions of their monsters that have become famous are not found in the pages of Shelley and Stoker. The popular image of Count Dracula and the Frankenstein monster comes to us from the movies. The populace's vision of a mummy did not come from Egypt, or a museum. The vision came from Hollywood. The movies that these monsters came from were all produced by one studio. This studio made it's best classic monster films from a period stretching from 1931 to 1939. The studio was Universal Studios, a name synonymous with classic horror.
On June 8, 1912 Carl Laemmle, Sr. founded the Universal Film Manufacturing Company. The studio developed quickly and by 1915, 250 motion pictures were being released by the company. When the original burst of energy faded away the studio languished and made many forgettable films. In the 1920's, Lon Chaney became the studios biggest star. His monstrous characters in The Hunchback of Notre Dame (1923) and Phantom of the Opera (1925) made those films highly profitable. In 1930, silent films were facing a decline and the "talkies" were on the rise. In that year, Universal began making only motion pictures that featured sound. Universal's All Quiet on the Western Front received the Oscar for best picture of 1930, but by 1931 the studio's momentum had once again run out.
The film that rescued Universal from total financial disaster was Dracula, released in 1931. The film was directed by Tod Browning and starred Bela Lugosi in the role he made his own. The film begins with a solicitor from England, named Renfield (Dwight Frye), traveling through the countryside of Transylvania. He travels to the mysterious Castle Dracula. The owner, Count Dracula (Bela Lugosi), greets him. When Dracula hears wolves howl in the background he says, "Children of the night, what music they make." Renfield has journeyed to Transylvania to discuss the sale of Carfax Abbey in England. That night, Renfield is attacked by Dracula and his zombie-like brides and becomes Dracula's insane servant.
The ship that Renfield and Dracula travel on lands in Whitby, England with every person aboard dead. When Dracula arrives in England he goes to the opera where he visits Dr. Seward (Herbert Bunston). Dr. Seward owns the insane asylum across from Carfax Abbey. Dracula also meets Seward's daughter Mina (Helen Chandler), her fiance John Harker (David Manners) and her friend Lucy (Frances Dade). At night, Dracula enters Lucy's room in the form of a bat and bites her. Lucy dies from Dracula's attacks and Dr. Van Helsing (Edward Van Sloan) is called to investigate. He concludes that Lucy's death was caused by "Nosferatu", or the "un-dead". Renfield is a patient at Dr. Seward's asylum and Dr. Van Helsing suspects that he may be the vampire because of his need to consume small animals. When Dracula visits Dr. Seward's house, Van Helsing notices that the Count casts no reflection in a mirror. He tells Harker and Seward that he knows Dracula is the vampire, and he must be stopped. Dracula has recently tried to turn Mina into his bride, so it is important that they destroy him before he kills Mina. Dracula takes Mina to Carfax Abbey to turn her into one of the un-dead. While Dracula is in his coffin, Van Helsing drives a stake through the vampire's heart and Mina is broken from his spell.
Dracula set the standard for the Universal horror films that would follow. Dracula is the film that all other vampire movies arose from. Bela Lugosi's interpretation of Dracula has become the most popular image of the Count.
The first film version of Bram Soker's novel was the film Nosferatu (1922), directed by F.W. Murnau. English actor and producer Hamilton Deane saw the film and wrote a stage adaptation of Dracula. The play became very popular and toured many parts of England. When the play debuted on the London stage it was adored by audiences. Critics, however, disliked the play. Producer Horace Liveright believed that an American production of Dracula would be extremely popular. Liveright hired journalist John L. Balderston to write an American version of the play. In September of 1927, the play opened on Broadway with Bela Lugosi as Count Dracula.
Bela Lugosi was born Bela Blasko on October 20, 1882 in the town of Lugos, Hungary. In 1893 he left his schooling to pursue an acting career. He took the stage name "Lugosi" after his home town. His stage career was troubled at first, but took off when he played "Romeo" in a Hungarian production of "Romeo and Juliet." In 1910 he left his acting to career to serve in World War One. In 1917 Bela Lugosi returned to his acting career. In 1917 he made his first film The Leopard. In 1920 he immigrated to the United States because his political views caused him to be kicked out of Hungary. For his first acting jobs in the United States, Lugosi had to learn his lines phonetically. His first American film role was as an evil spy in The Silent Command, made in 1922. Bela Lugosi had trouble finding film roles so he returned to the stage. When a star was needed for the Broadway production of Dracula, Lugosi was a natural choice. After Lugosi's role as Dracula on stage and screen he became one of the leading actors in horror films. For two decades Lugosi was one of Hollywood's chief masters of menace. In the 1950's the types of horror films that Lugosi made were no longer in production and Lugosi was mostly unemployed. In 1955 Lugosi checked into a drug rehabilitation center for his addiction to pain killers. In 1956, he appeared in Edward D. Wood, Jr.'s Plan 9 From Outer Space. Lugosi died three days after filming began and was replaced by a double covering his face with a cape. When Bela Lugosi was laid to rest, he was wearing his trademark cape.
Dracula, starring Bela Lugosi, ran for 261 performances on Broadway. After the show left, it went on a successful tour. Dracula was a perfect subject for a new "talkie". In 1930, Universal Studios paid $40,000 for the screen rights to the play.
The film was set to star Lon Chaney and to be directed by long time Chaney collaborator Tod Browning. Lon Chaney died on August 26, 1930 of a throat hemorrhage, so a new star needed to be found. Surprisingly, Bela Lugosi was not Universal's first choice to play Count Dracula. Universal felt that he was too much of an unknown for the part. Actors that were considered for the role included Conrad Veidt, Victor Jory, William Courtney, and Ian Keith. Lugosi did a screen test for Universal that impressed the studio so much that he was hired to star in Dracula.
Scenarists Garrett Fort and Dudley Murphy used the American play by John L. Balderston and Hamilton Deane to create their screen play for Dracula. On September 29, 1930 filming began on Dracula. The film was released on February 14, 1931 billed as "The strangest love a man has ever known!". The film was an immediate success for Universal and helped the studio gain much needed financial stability.
Bela Lugosi became one of Universal's biggest stars, receiving more fan mail than any other star working for Universal. Ninety Seven percent of his fan mail was from women. Later in his life, Lugosi said in an interview, "If I had one percent of the millions Dracula has made, I wouldn't be sitting here now."
The atmosphere of Dracula was achieved by the vast, gothic sets and Karl Freund's hazy cinematography. The scenes of the film that take place in Transylvania create an aura of dread and mystery. Karl Freund's sweeping camera angles and foggy compositions are a sharp contrast to the stagey uninspired direction of Tod Browning . Variety magazine's review for Dracula said, "On the screen it comes out as a sublimated ghost story related with all surface seriousness and above all with a remarkably effective background of creepy atmosphere."
Universal made a large portion of its profits from foreign markets. In the early days of sound film, dubbing had not yet been perfected. Universal executive Paul Kohner came up with the idea to film foreign language versions using foreign actors on the same sets used by the English versions. Foreign actors were cheaper, so cost was not a problem. The first Spanish film made by Universal was a Spanish version of the mystery film The Cat and the Canary in 1930. It was released as La Voluntad del Muerto and made actress Lupita Tovar a star in Mexico.
Paul Kohner decided to film a Spanish version of Dracula and cast Lupita Tovar. The cast and crew for the American version filmed on the sets during the day while the Spanish cast and crew filmed at night. The cast followed the same script as the english version, only it was translated into Spanish. The director was George Melford, who required a translator to communicate to the cast. Count Dracula was played by Carlos Villarias, Mina played by Lupita Tovar, Barry Norton was John Harker, Eduardo Arozamena was Dr. Van Helsing, and Pablo Alvarez Rubio played Renfield.
The debate among film critics rages on whether the Spanish or English version is better. One school of thought is that George Melford's direction is more fluent and stylistic than Tod Browning's stagey and stiff direction. In George Melford's version the action is more lively and moves much more freely. The other school of thought believes that the Tod Browning and Bela Lugosi version is superior. This opinion is based on two reasons. One reason is that Carlos Villarias can not convey half the menace or evil that Lugosi as Dracula. Carlos Villarias had none of the hypnotic sexuality that Bela Lugosi possessed. The other reason is that the film lacks the fog and shadows of Tod Browning's Dracula. The cinematography in Melford's version is much more well lighted than Karl Freund's and takes away the air of terror and mystery surrounding the sets. The chilling visuals of the English version are absent from George Melford's Dracula.
Regardless of the shortcomings of Dracula, its impact on the cinematic landscape can not be denied. The debate on which version is superior will continue. The original Dracula starring Bela Lugosi will continue to mystify audiences, although the terror audiences once felt is now gone. Today Dracula is a film which creates a enchanted, other worldly atmosphere that will survive the test of time. Dracula truly is immortal.