Universal Terror VII: The New Universal
Author
Date
09-01-2001
Comments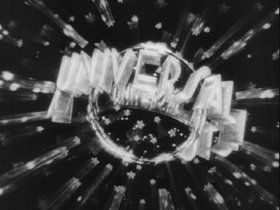 The Raven was the last horror film to be produced under the Laemmle dynasty of Universal. 1936 would be a year of great upheaval for the studio. In 1936, the studio hit very hard times, yet friends and relatives of the Laemmle family still took home top salaries. The stock holders became angry and voted the Laemmles out. After Carl Laemmle's family was removed, Universal became known as the "New Universal".
The first horror film made by the "New Universal" was The Invisible Ray in 1936. The Invisible Ray was the third Universal horror film to star Boris Karloff and Bela Lugosi. Dr. Janos Rukh (Boris Karloff) is in Africa searching for the element known as "Radium X". Rukh successfully obtains a specimen, but is contaminated by it. Rukh begins to glow in the dark and his touch becomes deadly.
Another member of the expedition, Dr. Benet (Bela Lugosi), gives Rukh a counteractive that temporarily stops the radioactivity. Meanwhile, Rukh's wife Diane (Frances Drake) has fallen in love with young adventurer Ronald Drake (Frank Lawton). Benet informs Rukh that Sir Francis Stevens (Walter Kingsford) has left for Europe to show Radium X. Benet also delivers a letter by Diane saying she is leaving Rukh. Rukh vows vengeance on all members of the expedition.
Rukh returns to his lab in the Carpathian mountains. He makes a ray using Radium X that cures his mother's (Violet Kemble Cooper) blindness. Rukh goes to Paris to have his revenge. His first victim is Sir Francis, who he kills with his radioactive touch. He then kills Lady Arabella Stevens (Beulah Bond). Dr. Benet examines her body and sees a glow-in-the-dark hand print.
Benet plans to have a large lecture at his house, baiting Rukh to show up. Benet plans to dim the lights so Rukh's glow will betray his location. Benet is in his private lab when Rukh sneaks in and touches him, killing him. Rukh begins to glow more brightly than before and smoke starts to come from his body. He needs the counteractive to control the level of radiation. His mother has followed him to Paris. As Rukh is about to inject himself with the counteractive, she knocks it out of his hand. Rukh says, "It's better this way", before he jumps out of a window. Rukh's body then evaporates as radioactive flames engulf his body.
The Invisible Ray was made under the title The Death Ray. The original director for the film was Stuart Walker, who had directed Werewolf of London. Walker read the script and left the project because he believed he could not shoot the film in the time provided. Universal chose Lambert Hillyer, an action and western director, to direct the film.
The original budget of The Invisible Ray was $167,000, but the final cost of the film was $235,000. Stuart Walker's prediction came true, the film shoot was several days over schedule. To cut costs, Lambert Hillyer used sets from a serial that he was filming at the same time.
The screenplay by John Colton gave both Boris Karloff and Bela Lugosi great roles. John P. Fulton's special effects made the film even more fantastic. The film was so successful that Universal planned to make another film starring Karloff and Lugosi on a similar theme. The film was titled The Electric Monster from a script titled "The Man in the Cab". The production of this film was stopped when horror films became unpopular. In 1941, it was made as Man Made Monster with Lon Chaney Jr. and Lionel Atwill in the roles intended for Karloff and Lugosi.
The Invisible Ray is an exciting film that shows off the talent of both its stars. The greatest asset of The Invisible Ray is that it was prophetic about the coming fears of radioactive contamination. Nine years later, the deployment of the atomic bomb would cause the rise of many horror films dealing with radiation.
The director of The Invisible Ray, Lambert Hillyer, went on to make the other Universal horror film of 1936. It was the first sequel to Dracula, titled Dracula's Daughter. Dracula's Daughter starts where Dracula left off. Dr. Van Helsing (Edward Van Sloan) is arrested for the murder of Count Dracula. Countess Marya Zaleska (Gloria Holden) hopes that Dracula's death may break the curse of vampirism, but her father's death has no effect on her. She orders Sandor (Irving Pichel), her servant, to find her a victim. He brings her a street girl and Zaleska feeds on her.
Zaleska pleads with psychiatrist Dr. Jefferey Garth (Otto Kruger) to help her with her problem, but she does not tell him what it is.
The girl that was attacked by Zaleska is brought to a hospital and Dr. Garth examines her. Dr. Garth notices the girl has two small puncture wounds on her throat. Garth asks for Dr. Van Helsing for his opinion and Van Helsing tells him a vampire is on the loose. Van Helsing tells Garth that a vampire would have no mirrors in his or her house. Garth remembers that Zaleska's apartment didn't have any mirrors.
Zaleska and Sandor kidnap Garth's secretary Janet (Marguerite Churchill). Zaleska wants Garth to come with her to Transylvania. Garth agrees to save Janet's life. At Castle Dracula, Zaleska plans to make Garth immortal by drinking his blood. Sandor becomes jealous because he believed she would grant him immortality. Sandor shoots Zaleska through the heart with a crossbow, killing her. Garth and Janet escape from Castle Dracula and return to America.
Dracula's Daughter was the last horror film directed by Lambert Hillyer. Dracula's Daughter was planned to feature both Count Dracula and his daughter, but this idea was dropped for unknown reasons.
Dracula's Daughter is a largely forgotten film, but should not be overlooked by fans of the genre. The level of eroticism is unusual in a horror film from the 1930's. The lesbian undertones of the scene where Zaleska attacks the street girl are quite unique among horror films of the era.
Dracula's Daughter displays such originality, that in some ways it is a better film that the original Dracula.
Dracula's Daughter was the last horror film that Universal released for nearly three years. Horror films became unprofitable to make. One of the key reasons for the decline was the banning of horror films in Europe. The rise of the Nazi powers in Europe left people with no taste for horror. Universal lost 40% of its overseas market at this time.