Universal's "The Invisible Man" Joins National Film Registry
Author
Date
12-30-2008
Comments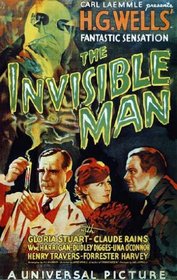 Every year, the Library of Congress chooses twenty-five films that are "culturally, historically or aesthetically" significant to be preserved in the National Film Registry. This year's selections, announced today, are a varied lot, ranging from comedies (So's Your Man) to film-noir (The Asphalt Jungle) to satirical dramas (A Face in the Crowd). Significant to genre aficionados is the inclusion of James Whale's 1933 sci-fi/horror romp The Invisible Man (1933). One of my favorites of Universal's golden age, the movie follows the transparent Dr. Jack Griffin (Claude Rains) as he wreaks havoc across the English countryside. It's a movie that benefits greatly from Whale's comedic touch as well as a bravura performance from Rains. The Library of Congress describes the movie thus:
Universal released many classic horror films during the 1930s and director James Whale crafted some of the greatest from that famous cycle: "Frankenstein," "Bride of Frankenstein," "The Old Dark House" and "The Invisible Man." Whale brought a dazzling stylishness to what were essentially low-budget horror films and, in the case of "The Invisible Man," produced sophisticated special effects, aided by John P. Fulton. As in his discovery of Boris Karloff to play "Frankenstein," Whale made another inspirational choice in picking British-born Claude Rains, in his American film debut, to portray H.G. Wells' tormented scientist Jack Griffin. In the film, after discovering a drug which provides the secret to invisibility, Rains becomes an insane maniac and goes on a power-hungry murder spree, but later makes a deathbed confession to his fiancée: "I meddled in things that man must leave alone."
Other horror-related films added to the registry are James Cameron's The Terminator (1984), John Boorman's Deliverance (1972), and Richard Brooks's In Cold Blood (1967). The full list can be found at the Library of Congress website.