Warner to Release More Classic Horror on DVD in Q4
Author
Date
04-30-2008
Comments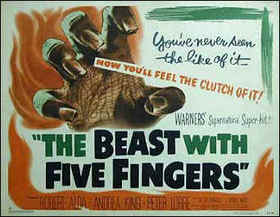 This is apparently ancient news (from February), but I completely missed it. I'm posting it now in case anybody else shares my lack of timeliness. As part of a press release about Warner Bros.'s 85th Birthday, Warner Home Video announced that a new classic horror box set would be forthcoming in the fourth quarter of this year (between October and December). Only one of the titles is known -- Robert Florey's The Beast with Five Fingers -- but the release also promised that Boris Karloff would feature in at least one of the movies (my money is on Michael Curtiz's The Walking Dead).
There are quite a few titles that could possibly show up here. Not taking into account what's been lost (because that's a headache and a half), but keeping in mind that Warner has access to the Golden Age (1896-1948) libraries of MGM and RKO as well, here's a few other titles that could show up: The Mad Genius (1931), Kongo (1932), They Drive By Night (1938), The Picture of Dorian Gray (1945), and Zombies on Broadway (1945). If the set expands out to the 1950s, they'll also have Phantom of the Rue Morgue (1954) and Frankenstein 1970 (1958) to choose from.
Speculate away, folks.