William Finley (1942 - 2012)
Author
Date
04-15-2012
Comments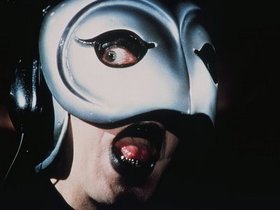 If I don't hear about any horror fan screaming out into the night at this sad and grim news, then I will truly be surprised! I know there's a few tears in my eyes already. It appears that William Finley, beloved character actor, passed away on April 14th, 2012 due to complications after surgery.
Finley was mainly known for his collaborative efforts with noted director Brian De Palma, whose film credits with him include The Wedding Party, Dionysus, Sisters, and of course, Phantom of the Paradise. Finley was also known for his working relationship with horror film director Tobe Hooper as well, starring in Eaten Alive, The Funhouse and Night Terrors. He also starred in Wise Blood alongside Brad Douriff and wrote the script for The First Time. According to IMDB, his last known role was George Tilden in Brian De Palma's The Black Dahlia.
Finley's trademarks besides his phenomenal versatility as an actor was his thin, lanky body, his bulbously pair of glasses that popped out at you, and his distinct, calm, creepy voice. I had first become introduced to Bill's work when I first saw him in The Funhouse, where he played Marco the Magnificent, a drunken, pathetic stage magician with a few tricks up his sleeve. To this day, he is still one of the best characters in that horror movie, delivering a cool historical lesson about Vlad the Imapler while also performing one of the most frightening and cruel gags I've ever seen a magician (real or fictitious) do. I never met him personally, but I've heard from others stories about what a sweet and kind human being he was.
All I have to say now is this: Rest in peace, Bill! Your film legacy will live on in the hearts of horror film fans forever!