Dracula (1931)
Universal's 1931 production of Dracula is a lot of things. It's badly paced, riddled with continuity errors, and ridiculously stagebound a good portion of the time. It's also atmospheric, chilling, and contains one of the most influential and oft-imitated performances in the history of cinema.

Based more on the stage adaptation by John L. Balderston and Hamilton Deane than Bram Stoker's novel, Dracula opens on a carriage passing through the Transylvanian mountains. Inside is Renfield (Dwight Frye), a real estate agent visiting Count Dracula for the final paperwork. After a hassle with the superstitious villagers, he arrives at the count's castle, and is greeted by a gentleman in a tuxedo and cape (Bela Lugosi) who introduces himself: "I am... Dracula." From there, we are whisked away (and occasionally dragged along) on a journey into the macabre and seductive world of vampirism.

The history behind Dracula is nearly as interesting as the film itself. Bela Lugosi was actually the studio's last choice for the title role, after first pick Lon Chaney, Sr. died unexpectedly of cancer before production could begin. Director Tod Browning was still unaccustomed to directing talkies; David Manners has stated that cinematographer Karl Freund directed all of his scenes. At nights, the sets would be taken over by a separate crew producing a Spanish-language version of the film (which is often considered superior).

Given all the hullabaloo behind-the-scenes, it's not really a surprise that the quality of the movie itself is so uneven. Indeed, one can evenly split Dracula between its fluid, energetic first reel and the drab, drawing room melodrama that makes up the rest of the film.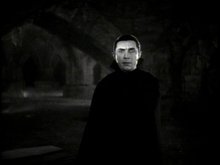 Although there's no record of when Browning was in control and when (or if) Freund had the helm, one can certainly conjecture. There are slouching scenes where the camera seems nailed to the floor, panning occasionally to keep the characters in frame -- a style which Browning's other films seem to favor. There's also parts of the film that are thrilling and dynamic, with moving cameras and innovative shot (including a POV sequence with a horrendous vision of doom seen only in shadow), much like Freund's two credited directorial efforts in the horror genre, The Mummy and Mad Love (The Mummy is, incidentally, essentially a more dramatically successful remake of Dracula).

Jumps in continuity and noticeable gaffes abound in the film. The footage wasn't so much edited out as exorcised, leaving gaps where objects seems to jump about in a disorienting fashion. Events are referred to that never happened (or happened so ambiguously that they seemed to not occur). Large pieces of masking, referred to by film historian David J. Skal as "Karl Freund Memorial Cardboard," are still glued to lamps when the camera is trained on them.

Still, with all the issues the film has, it still manages to work, for a few reasons. The first is Frye as Renfield. Although he begins in the film in the typical and yawnsome overstated style of the early talkies, his change-over to the crazed servant of Dracula is quite a revelation. His maniacal laugh pounces on the brain and is almost impossible to imitate (Arte Johnson in Love at First Bite is the only success I've heard). His vacillation between serving "the Master" and saving the others from him is occasionally histrionic but compelling nonetheless.

The second is, of course, Lugosi himself, giving what would be the performance of his lifetime, a success he'd never duplicate, and a role he'd never live down. His strange phonetic pronunciation of the lines is chilling in its awkwardness. He commands a stunning presence over whatever room he enters, as if he truly is the superior being. His all-too-brief battles of wits with Professor Van Helsing (Edward Van Sloan) are amongst the great power struggles in horror history (right up there with the chess game between Lugosi and Boris Karloff in The Black Cat).

Also, it is in the character of Dracula that we find the subtext that gives the film its darker edge, and the final reason why it overcomes its unevenness so effectively. Dracula maintains careful control over women throughout the film, from lower-class servants to the upper-class females who are drawn in by his exotic Eastern European bearing. The men in the film work to save the "purity" of the women from Dracula's night-time attentions, checking their bodies for marks after the vampire visited their beds. Throughout the film, women are weak victims who fail to speak for themselves; they must be protected from the count's covert sexuality. It's a rather archaic attitude, which is probably why the film is somewhat less effective today, but it is a strongly stated one which lends an extra ounce of terror to Dracula's looming presence.

Dracula was Hollywood's first foray into the world of supernatural horror, and it's obviously a work-in-progress. James Whale would later make great leaps and bounds with the genre in Frankenstein and its sequel, but neither could have existed without Tod Browning (and Karl Freund) first making their attempt. For all of its flaws, Dracula is still an essential for any fan of classic horror films.
Trivia:
Lugosi was paid $500 a week, a fraction of what David Manners received.

In addition to the separate Spanish-language film, a silent edition was prepared for theaters without sound.
Comments