2010 Rondo Nominees Announced -- Classic-Horror.com Nominated
Author
Date
02-22-2010
Comments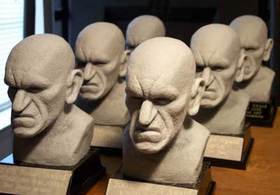 Nominations for the Eight Annual Rondo Hatton Classic Horror Awards were announced last night on the rondoaward.com website and the Classic Horror Film Board. The purpose of the Rondos is to recognize "the best in monster research, creativity and film preservation." Classic-Horror.com is proud to be a nominee in the category of Best Website. Praise goes out to all of our hard-working writers who helped make 2009 one of our best years ever.
Congratulations go to former Classic-Horror staffer John W. Bowen; his Rituals retrospective for Rue Morgue was nominated for Best Article (John previously reviewed Rituals for Classic-Horror waaaay back in 2001). Kudos also to our recent guest contributors Max Cheney (Best Blog for The Drunken Severed Head and Best Article for his piece on artist Linda Miller in Scarlet), Brian Solomon (Best Blog for The Vault of Horror), and Tom Weaver (Best DVD Commentary for Frankenstein 1970, and two nominations for Best Article -- one for his Five retrospective in Screem and another shared with Steve Kronenberg for his piece on The Strange Door in Monsters from the Vault).
The full list of nominees can be found at RondoAward.com. Ballots should be email to taraco@aol.com no later than midnight on April 3, 2010.