"American Werewolf" to Howl Again?
Author
Date
06-30-2009
Comments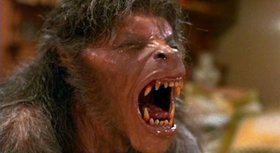 Reuters are reporting that remake kings Dimension Films have picked up the rights for a new version of An American Werewolf in London.
The original, written and directed by John Landis, starred David Naughton and Griffin Dunne as two American backpackers hiking in the Yorkshire moors. After the pair are attacked by a werewolf, Naughton ends up terrorizing London while Dunne becomes a reanimated corpse, looking for ways for Naughton to kill himself and stop the curse.
The producers are reportedly trying to keep the comedy elements of the original, while making the story relevant to contemporary audiences. No writer or director has yet been hired for the new version, although Landis will apparently serve as executive producer.
Dimension, the genre arm of The Weinstein Company, has picked up other horror titles in hopes of relaunching money-making franchises. Dimension is releasing Halloween II at the end of August and, as reported on this site last October, is still developing a remake of Hellraiser.