Are You a Member of the Hatchet Army?
Author
Date
08-13-2007
Comments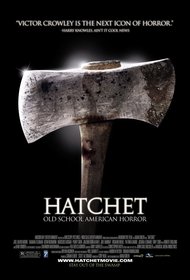 I've said it before, but it needs to be said again -- while the recent spate of remakes and sequels is not necessarily a bad thing, it has become a little overkill. That's why we're looking forward to Hatchet, Adam Green's R-rated slasher film, which promises good, old-fashioned thrills and chills, plus some improvements on some of the less appealing aspects of the slasher. How can you support Green's ambitious project? Two ways.
Show up. Find the nearest theater playing Hatchet when it opens in limited release on September 7th and get there. Nothing speaks to Hollywood more than a packed house.
Spread the word. Best way to do that is to sign up for the Hatchet Army at http://www.hatchetarmy.com/. What's the Hatchet Army? It's an initiative started by fans to show their support of Hatchet. Plus, the filmmakers have thrown in some sweet incentives -- sign up for the Army and you get one entry into a contest to win some awesome prizes like a trip for two to Los Angeles to meet the members of the cast or a Blu-ray player. Then, refer friends to the Army for even more chances to win (full rules and regulations for the contest are at www.hatchetarmy.com). Plus, once you've enlisted in the Army, you get access to exclusive videos of the cast as well as footage from the movie. So, not only are you helping your genre, but you're helping yourself. Everyone wins.
So, what are you waiting for? Get over to www.hatchetarmy.com and sign up! Plus, read our interviews with Hatchet director Adam Green and co-star Robert Englund.