Full Details for Unrated "Hatchet" DVD
Author
Date
10-03-2007
Comments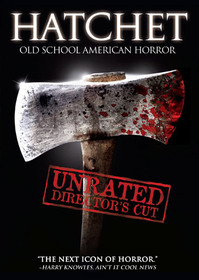 Anchor Bay has passed word to Fangoria that Adam Green's retro-slasher Hatchet (read our enthusiastic review) will be hitting DVD on December 18th, 2007, just in time for Christmas. Not only that, but the film will be uncut and unrated, which is great news for gorehounds. Special features will include:
Commentary with director Adam Green, cinematographer Will Barnett, and actors Tamara Feldman, Joel David Moore, and Deon Richmond.
"The Making of Hatchet" featurette
"Meeting Victor Crowley" featurette about the movie's villain
"Guts & Gore" featurette about the makeup and prosthetics work in Hatchet
"Anatomy of a Kill" featurette which follows the jaw-breaking sequence from concept to execution.
"A Twisted Tale" featurette about Green's friendship with Dee Snider.
Gag reel
Theatrical trailer
Additionally, an R-rated version will be available with just the Victor Crowley featurette and the trailer. Suggested retail price for both versions will be $26.97, although you should probably expect a lower price on the shelves when the disc hits stores on 12/18.
In Hatchet, tourists on a haunted bayou boat ride finds themselves stranded in the stomping grounds of Victor Crowley (Kane Hodder), a man whose tortured childhood has lead him to homicidal rage. The film received a limited theatrical release in September.