"Hatchet" Opens Today!
Author
Date
09-07-2007
Comments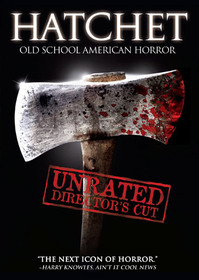 Here it is, boys and girls, the big day. September 7th, 2007. Adam Green's slasher Hatchet opens in 70+ theaters across the country and it's time to show our support. If you're sick of remakes, sick of sequels, and you just want to see some good, old-fashioned 1980s-style blood-and-gory fun up on the big screen where it belongs, find the nearest theater playing the movie and get there. Julia and I have already reserved our tickets for the 8:30PM showing at the AMC Deer Valley in Phoenix, AZ. If you want to say "hey," I'll be the really tall guy with the long hair wearing the green Hatchet Army t-shirt.
Already we're receiving word that Hatchet has sold out two showings at the Arclight Theater in Los Angeles. That's pretty good, but we can do better. Let's sell out every showing in every theater that we can. The only vote that any of us have in Hollywood is the money we pay. By going to see Hatchet tonight, you're voting for originality. You're voting for R-rated horror. You're voting for unexpected implements of death. You're voting for passionate filmmakers like Adam Green who make horror movies because they love them, not just to make a buck or to advance their career.
What's it about? Victor Crowley (Kane Hodder) is a legend in the swamps of Louisiana -- a deformed boy who was struck down by tragedy, now forever haunting the bayous and killing anyone who disturbs him. Into these bayous wanders a Haunted Swamp tour, including lovelorn Ben (Joel David Moore), his best friend Marcus (Deon Richmond), two ditzy babes who think they're in "Girls Gone Wild" (Joleigh Fioreavanti and Mercedes McNab), and Marybeth (Tamara Feldman), a local with a secret. When their incompetent tour guide (Parry Shen) gets them stranded, can this group survive the rage of poor Victor Crowley? The movie also features appearances by Tony Todd and Robert Englund for that extra touch of genre goodness.
Here's the thing: I'm not a slasher fan. I'll admit that. I love a good slasher movie when it's done right, but let's face it -- that's a rare beast indeed. The history of the slasher movie is marked with cynical people making cynical movies, trying to give the people what they want without caring why they want it. I've talked with Adam Green, I've talked with Green's mentor and inspiration Dee Snider, I've talked with Green's cast, including Robert Englund. I've walked away from every conversation impressed by the passion and excitement of these people. They understand horror. They understand horror fans. They all want to give us exactly the experience we deserve and I believe they can. The reviews back up this belief: Bloody-Disgusting.com (#1, #2, #3), DreadCentral.com (#1, #2), Arrow in the Head, Ain't It Cool News, and Cinefantastique Online.
Visit HatchetMovie.com and find the theater closest to you. If you can't find one there, call the theaters in your area. Some places are showing the movie that aren't showing up on the lists. Even if your local theaters aren't showing Hatchet, giving them a call will let them know that you want to see the film, that there's interest out there. Then find a Hatchet theater within 100 miles and go there. Tell your friends. Tell your friends to tell their friends. Tell your friend's friends to tell everyone they know. Hatchet is here. Let's ensure it stays.