Morbid Configurations: The Beauty of Bava
Author
Date
10-28-2007
Comments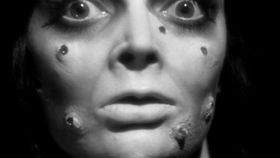 Using the camera and some tricks of light and perspective, Mario Bava created artistic masterpieces that were beautiful in motion and often more beautiful seen at a halting standstill. It's one thing to create a phenomenal photograph and quite another to present 24 a second for 80-100 minutes. Herein we present some visually striking moments from several of Bava's films from within the horror genre and from without. Each still is taken from a DVD screen capture and most are presented without additional comment.
Any omissions in our appreciation are purely due to a particular film being unavailable to us. If you have a favorite still from one of Mario Bava's films that we don't feature above, please use the Contact Form to let us know.
This feature is presented as part of Mario Bava Week, the last of four celebrations of master horror directors done for our Shocktober 2007 event.