Rob Zombie's "Halloween" Coming to DVD for Christmas
Author
Date
10-23-2007
Comments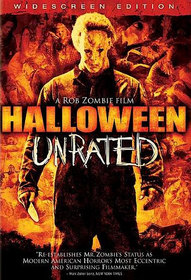 Genius Entertainment will release Rob Zombie's Halloween, a remake of the 1978 John Carpenter classic, in separate rated and unrated two-disc special editions on December 18th, 2007. The rated disc will feature the film as it played in the theaters and buyers will have a choice between widescreen and fullscreen. The widescreen-only unrated version, which features 11 minutes of additional footage, is being touted as Zombie's director's cut. Features for all editions include:
Dolby Digital 5.1 English soundtrack
Audio commentary by Rob Zombie
Seventeen deleted scenes with optional commentary by Zombie
Alternate ending
Re-Imagining Halloween documentary
A Conversation with Rob Zombie featurette
Meet the Cast featurette
The Many Masks of Michael Myers featurette
Bloopers
Casting session footage
Laurie Strode screen test
All editions of Halloween will carry a suggested retail price of $29.95.