San Diego Comic-Con International 2006 Report
Author
Date
07-30-2006
Comments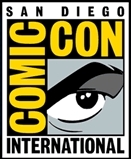 Yes, the Haunted Newsreel is back for a one-shot look at the news and highlights of San Diego Comic-Con 2006. This week, we'll be looking at Skinwalkers, Grind House, The Reaping, Pan's Labyrinth, The Wicker Man, Snoop Dogg's Hood of Horror, and, oh yes, Snakes on a Plane.
The Con:
The 2006 San Diego Comic-Con was held from July 20th to July 23rd at the San Diego Convention Center in sunny Southern California. Each year, tens of thousands attend, and 2006 was no exception. The Fire Marshal actually shut down onsite registration on Saturday because there were simply too many people in the building (online registration had been disabled the previous night).
As has become typical of this event, comic books were only part of the offering. All the major studios held presentations on their upcoming films, and they brought the celebrities with them. Film-related panelists at this year's Comic-Con included Guillermo del Toro, Quentin Tarantino, Robert Rodriguez, Rosario Dawson, Gerard Butler, Zach Snyder, Hilary Swank, Bryan Singer, Richard Donner, David Arquette, Rose McGowan, David Wenham, Stephen Hopkins, Nick Frost, Edgar Wright, and Samuel L. Jackson -- and those are just the people that I saw.
But the really important question is -- what's the hip Classic-Horror related news on the block?
Universal Monsters 75th Anniversary
While the super-special edition DVD releases of Dracula and Frankenstein had been announced well before Con, Universal gathered up some impressive monster experts, including Famous Monsters of Filmland's Forrest Ackerman, FFMoF cover artist Basil Gogos, actor/monster geek Daniel Roebuck, and author John Flynn (75 Years of Universal Monsters) to reminisce and present a clip from a brand-new featurette on Boris Karloff, the sinister gentleman. The clip featured interviews with Rob Zombie, Joe Dante, and a host of other monster enthusiasts. During the panel itself, Ackerman fondly recalled his first viewing of Frankenstein at its premiere. The story was well-told, as I am certain he'd had many years to perfect it. Apparently, the studio kept ambulances outside in case the horror of the film became too overwhelming, and they planted a woman in the audience to scream and run out at a certain point in every showing.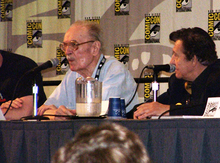 Forrest Ackerman and Basil Gogos
Lions Gate panel (Skinwalkers, Saw III )

First up was a presentation on the new werewolf film, Skinwalkers. The footage they showed didn't have any actual werewolves, however. Perhaps they're saving them for the actual theatrical release. Afterwards, director James Isaac and special effects guru Stan Winston sat down to talk about the film a bit. Winston recounted his love of werewolf movies, and how he felt they had lost their heart due to advancements in technology. Werewolf films, he felt, are character-centric and with CGI, this element is lost. Werewolves, he said, "are dysfunctional people." Winston also said that he always wanted to do the "ultimate werewolf film." He found a script called Skinwalkers five years ago ("Best I ever read"), but it was already optioned to a "young schmuck." The schmuck, it turns out, is Isaac.
One big point that was made was that there will be no digital werewolves in the film. All lycanthropes will be done with prosthetics and makeup, and the actors will be recognizable under the latex. Winston said that this would be "a werewolf movie you haven't seen before."
Isaac elaborated on the plot a bit, saying that the film is family-centric. There is a little boy that is very special, for reasons that Isaac would not reveal. There are two factions of werewolves -- one that revels in the "werewolf life," and another that is not into the killing and destruction. Both sides are willing to die for their cause.
The Saw III panel was a bit anticlimactic, as the Lions Gate representative warned ahead of time that no plot details were going to be revealed at all. In fact, the first time any of us will get to see anything of the film is when the trailer premieres attached to The Descent on August 4th.
Saw III opens October 2006. Skinwalkers will premiere sometime in 2007.
Guillermo del Toro and Pan's Labyrinth
The Pan's Labyrinth presentation was by far the funniest and most candid panel I attended during Comic-Con. First, however, I must comment on the beautiful trailer. The imagery popped out from the screen, surrounding the audience in a fantasy world. The creatures seemed to have that old-school fantasy feel of Dark Crystal and Legend. There were segments in "reality" also. The film appears to be a coming-of-age story that alternates between the fantastical and the all-too real.
After the trailer, del Toro and star Doug Jones (who you may remember as the physical presence of Abe Sapien in Hellboy) took the stage to discuss the film and take questions from the audience. Del Toro relayed a little backstory behind Pan's Labyrinth, revealing that it is a Gothic ghost story set in 1939 Spain at the end of the Spanish Civil War. The film is a Spanish-Mexican co-production, and the dialogue will be entirely in Spanish. Del Toro also said that the film was a thematic follow-up to The Devil's Backbone, and that it was recommended to see Backbone before Pan's Labyrinth. Later in the panel, he said they would be releasing a case book of material that would elaborate on the connection between the two films.
Asked by an audience member why he didn't just produce the film in English, del Toro responded that Spain and Mexico "usually produce realistic films about how life is miserable but noble. [I wanted to say] we have one of the richest imaginations." He also said that doing the film in English would probably open its audience wider, but the movie would lose its uniqueness.
When speaking of the film, much of del Toro's praise was heaped on Doug Jones, as the director felt that "creatures are not made by prosthetics." He described Jones' ability to bring strange beings to life through motion and posture as "a gift." Jones said that he had a "20 year career under a lot of rubber," and that he "would like to do some character research [that is] not at a zoo." Jones will be playing both Pan and the Pale Man in the film, and between the two characters, will have more dialogue than any other actor in the film.
Regarding upcoming projects, del Toro stated that Hellboy 2 was on hold because Revolution Studios was no longer producing with any consistency and had dropped the project. They are looking for new funding, but this leads to "a carload of politics." As such, the dates are unknown, but the second screenplay is "beautiful."
At the Mountains of Madness keeps getting put off also, for a variety of reasons. Del Toro told the story of scouting Romania for an Antarctic set, and that the designs for the film were astounding. Or, as he put it, "you would cry ... and then jerk off in a corner."
When asked about how he felt about previous projects inside the Hollywood machine, del Toro shot off some quick views on two of those films. Regarding Mimic: "One hour of Mimic I love... but it was a learning experience. [I was learning how] to operate the Hollywood machine, and learning to operate big machines, you lose a few fingers." His comment on Blade II was frank and amusing: "If I had a six pack of beer and a f**king pizza, I would love this movie."
Pan's Labyrinth is currently slated to open in limited release in the United States at the end of 2006, though del Toro noted that the number of theaters for Pan would be significantly higher than that of Devil's Backbone.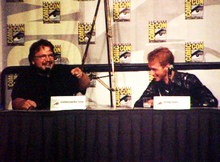 Guillermo del Toro and Doug Jones
Snoop Dogg's Hood of Horror
This panel was unfortunately minus Snoop Dogg himself, who was stuck in San Diego's infamously congested Con weekend traffic. Panel members who were present included co-writer/producer Tim Sullivan, producer Martin Shore, actors Ernie Hudson, Diamond Dallas Page, Daniella Alonso and others.
Hood of Horror will be a sequel of sorts to 1995's Tales from the Hood. Like Tales, it's a take on the old EC Comics tradition with an African-American inner-city focus. Snoop Dogg plays the demonic narrator of the three stories that comprise the film. The stories are as follows:
* A graffiti artist (Daniella Alonso) gains the ability to deliver a death sentence to any competitor whose tag she crosses off. She initially uses this ability to eliminate some of the worst gang members in her neighborhood, but eventually she becomes far less discriminatory, and has to pay the price.

* A group of veterans (including Hudson and Billy Dee Williams) live in an apartment building owned by a slumlord (Anson Mount) who will eventually "get what's coming to him."

* Diamond Dallas Page stars in the third story, about a rap star who is shown all the points in his life where he made decisions that hurt other people, and is given the opportunity to change those decisions.
The film as a whole is being described as "splatstick " (a combination of slapstick comedy and the splatter film) There will also be an anime segment that shows the backstory of Snoop Dogg's character, and how he became who is he is. Snoop Dogg was originally approached to work on the film not only for his celebrity status, but also for his love of horror and comics. Snoop also wrote and recorded a song especially for the film without being asked. The song will appear in the film and on the soundtrack.
Snoop Dogg's Hood of Horror will be released November 4, 2006.
The Reaping
The trailer played before the panel itself was too fast and it was difficult to get a bead on what was happening.. There were plagues (Bible-style) and a small evil looking child at the center of it all. Definite shades of The Omen.
The panel featured producer Joel Silver, director Stephen Hopkins, and actors Hilary Swank and Ana Sophia Robb (who plays the creepy girl from the trailer). The Reaping, according to Silver, is about a miracle debunker who finds a small Louisiana town where she cannot explain the mysterious plagues. Hopkins elaborated that the film was "supernatural in anatomy, but really a suspense thriller... a detective story."
Hopkins denied the Omen comparisons, saying that the "twists and turns are so different from The Omen. I couldn't find a movie to reference" in regard to The Reaping's subject matter.
The Wicker Man
Neil LaBute followed The Reaping panel with the opening minutes of his upcoming Wicker Man remake. In it, Nicolas Cage pulls over a woman whose daughter is acting strangely, only to witness them die in a fiery accident that he is unable to prevent. The scene has no corollary in the original, and yet there is still that strange vibe of something that isn't quite right.
After the clip, LaBute took questions from the audience. He said that he came to The Wicker Man by being a fan of the original. His version will be "quite different, but the spirit will remain the same." He wanted to do something "outright creepy."
One of the differences is that LaBute is changing the basic conflict. The society will be matriarchal, and thus the focus will be male versus female, rather than Christian versus Pagan. "I guess I'm more scared of women than men," LaBute joked. The society's main commodity has been changed from apples to honey, to give the whole thing a queen bee and worker drones motif. Ellen Burstyn will be taking on a role similar to Christopher Lee's in the 1973 film.
Snakes on a Plane
Actor Kenan Thompson, director David R. Ellis, and snake wrangler Jules Sylvester brought out some of their slithery friends for the Snakes on a Plane presentation. First, a clip compiling the best from the Internet parodies was shown. They showed us some impressive snakes, including two Burmese Pythons and a nineteen-foot, 250-pound anaconda.

Then, the audience was treated to an exclusive 10-minute clip from the film. At then end of the clip, a very familiar voice announced that he wanted those motherf**king snakes of this motherf**king plane, and Samuel L. Jackson himself took the stage. After he settled into his chair, the group took audience questions (which ranged from interesting to silly to stupefying inane). According to Sylvester, the film started with 450 snakes and ended with around 500 (because snakes coming together make baby snakes). Jackson said that he hoped that the hype behind the film would lead to a more open film community.
It's becoming increasingly clear that there's not that much to say about the film. There are snakes. They are on a plane. And Jackson put it best, in response to a cheeky question from an audience member.
Audience Member (paraphrased): "[Mr. Jackson], do you think those snakes deserve to die?"
Samuel L. Jackson: "Yes, the snakes deserve to die, and I hope they burn in hell!"
True story. In any case, Snakes on a Plane will be out in theaters on August 18th, now with extra sequences of violence and nudity added in (you know, the kind that studios usually remove).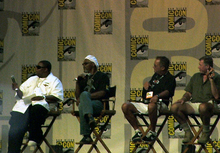 Snakes on a Plane panel
(from left to right)
Kenan Thompson,
Samuel L. Jackson,
David R. Ellis,
Jules Sylvester
Grindhouse

I have just two words for this film, Quentin Tarantino and Robert Rodriguez's double feature tribute to 1970s fly-by-night exploitation cinema: hell yes. Based on the exclusive preview footage of Rodriguez's segment "Planet Terror", hell yes all the way. We get it all -- zombies, strippers, blood, guts, a machine gun as a prosthetic leg, explosions, and more. The tongue is seriously through the cheek with this one, á la From Dusk Till Dawn. The entire segment was done over with filters to make it look like an old 1970s film that had recently been dusted off. While not quite as successful in this endeavor as Jesus Christ: Vampire Hunter, it still promoted the right vibe. Besides, they're still filming, so anything could happen.

The panel itself started out with just Rodriguez and Tarantino, but they were eventually joined by Rosario Dawson, Marley Shelton, Rose McGowan, Zoe Bell, Sydney Poitier, and Mary Elizabeth Winstead. Dawson, Bell, Poitier, and Winstead are all in Tarantino's segment "Death Proof," while McGowan and Shelton will be doing double duty with parts in both segments. Rodriguez is just finishing up "Planet Terror" now, after which Tarantino will start work on his segment. Both segments are being filmed in Texas.
Tarantino revealed that the original plan for two shorter films had gone out the window. "This isn't a faux double feature anymore. This is two movies for the price of one." In between each feature will be faux trailers for other projects. Tarantino said that if they ever do a Grindhouse 2, "you'll demand that we do these movies." He also said they were trying to get John Carpenter to score some music for the film.
The big news, however is that Tarantino revealed who would be playing the killer in his "slasher film at 200 miles per hour" segment: Snake Plissken himself, Kurt Russell. Hopefully this turns out to be one of those Tarantino-Travolta things where Russell's career gets a serious boost from the exposure.

Grindhouse comes out April 6, 2007.

Rosario Dawson

Quentin Tarantino (standing) and
Robert Rodriguez (sitting)


Tarantino (L) and Rodriguez (R)
discuss Grindhouse


Full Grindhouse panel
From L to R: Sydney Poitier,
Dawson, Tarantino, Rodriguez,
Marley Shelton, Rose McGowan,
Mary Elizabeth Winstead, Zoe Bell
(not pictured)

Zombie Prom

Not coming to a theater near you any time soon, this short featurette combines the very best elements of E.C. Comics and Grease into a rock 'n' roll holocaust of musical joy. I managed to catch a screening of the film (directed by Vince Marcello, under the mentorship of Wes Craven) and I was blown a way by the high-energy numbers and wacky sensibility. This won best Comics-Oriented Film as well as the Judges' Choice at the Comic-Con International Independent Film Festival. Alas, certain rights issues prevent it from being sold anywhere as of yet. However, Marcello hopes to make a feature length version. Check out the film's website at http://zombiepromthemovie.com/
Wrap-up
Comic-Con is always a trying four-day weekend. There were many more announcements at many more panels that the Classic-Horror team was unable to cover. We attended a lot of panels, saw a lot of celebrities, acquired a lot of free crap, bought a lot of expensive crap, cursed ourselves for not working out more in the 361 days between Cons, but, ultimately, we had a lot of fun. Come out and join us next year. We guarantee you won't forget it.

Thanks to Julia Merriam and Tracy Kober for the additional reporting and hard work.