Shear Terror on "Black Sheep" DVD
Author
Date
09-19-2007
Comments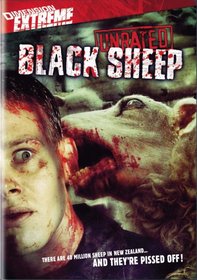 More DVD news from the Weinstein Company and Genius Products, this time for the New Zealand rampaging animal flick Black Sheep. Writer/director Jonathan King's horror-comedy will be available to purchase on October 9, 2007 on the Dimension Extreme label. Suggested retail price is $24.95 (pre-order Black Sheep on Amazon.com). The disc will include:
Commentary with Jonathan King and actor Nathan Meister
Making-of featurette
Five deleted scenes with optional commentary
"Early Morning" - surprise bonus scene made exclusively for the DVD
Blooper reel
When Henry Oldfield (Nathan Meister) returns to his family's farm to sell out to his older brother Angus (Peter Feeney), he learns that Angus' reckless genetic engineering program has infected thousands of sheep on their sprawling New Zealand farm and turned them into bloodthirsty predators.