Sweet Cthulhu! Guillermo Del Toro's Next Project is "At the Mountains of Madness"
Author
Date
07-28-2010
Comments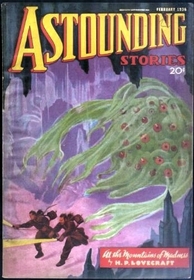 Guillermo del Toro has been attached to more projects in the past five years than I have fingers, but the one that I've always been most excited to see happen is finally finally coming to pass. Deadline New York reports that del Toro's next movie as director will definitely be an adaptation of H.P. Lovecraft's At the Mountains of Madness for Universal. James Cameron will be a producer on the film, which should come in handy since it will be shot in 3D. Cameras will start rolling next summer after what I'm sure will be a necessarily lengthy preproduction period.
In Lovecraft's novella, which debuted as a three-part serial in the pulp magazine Astounding Stories, a scientific expedition to Antartica discovers an ancient city of gods and monsters. It will likely be a challenge to adapt, taking into account that this is being mooted as a big ticket item and not a smaller art-house productio. At the Mountains of Madness is a dark tale with a darker ending and not a lot in the way of human relationships. However, I have every confidence that the director of Pan's Labyrinth can make it work.